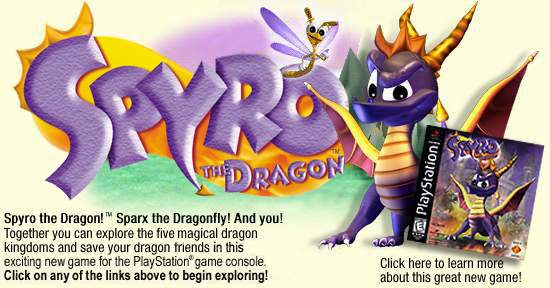 Spyro, Spryo the Dragon, Dragons, Sparx, Dragonfly, Fire, Crystal, Fire breathing, Fire-breathing, Playstation, PlayStation Dragon, Game, Computer game, Sony, Fantasy, Video game, Insomniac, Universal New Media, Universal Studios, Universal Interactive Studios, Children, Kids, Imagination








Spyro The Dragon TM & (c) 1998 Universal Interactive Studios Inc. All Rights Reserved.
Developed by Insomniac Games, Inc. All rights reserved.

PlayStation and the PlayStation logos are registered trademarks of Sony Computer Entertainment Inc.




www.universalstudios.com
©1999-2000 Universal Studios
All Rights Reserved
Terms of use Privacy Policy